The Artist's Guide to Apple Watch Apps
Our first Apple Watch course focuses first on creating a vector-based watch face in Adobe Flash, with animated elements, ready to be exported. We'll then import those assets into Xcode and program everything, from the Apple Watch app to the companion iPhone app.
This course is intended for artists or animators (e.g. non-programmers) full of ideas and talent but know nothing about Xcode. Buyers will also receive two templates to make getting in on the Apple Watch gold rush even easier!
Three Amazing Courses on Construct 2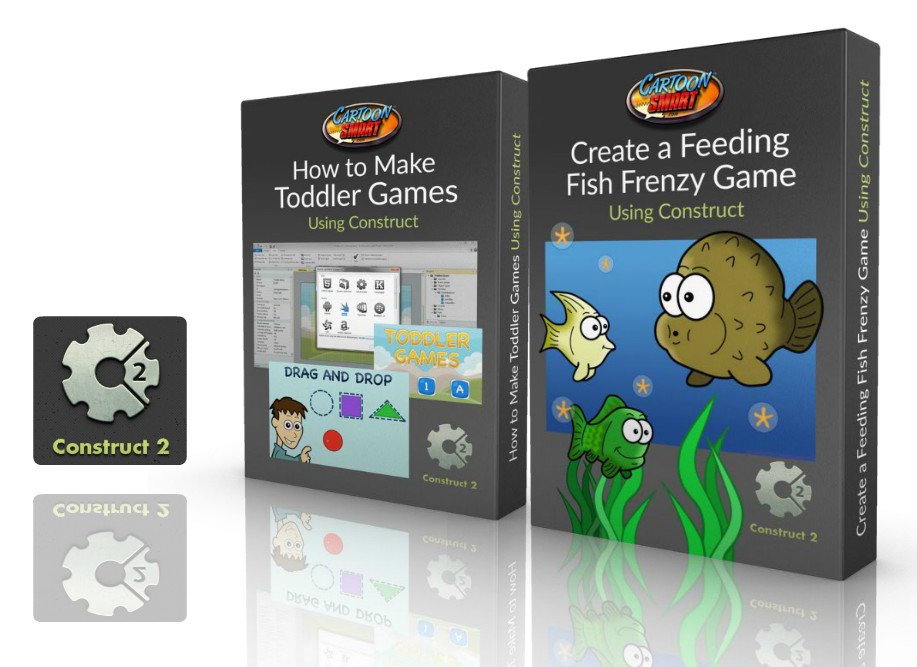 The one iOS Starter Kit to rule them all…
The Fantastic Worlds iOS Starter Kit enables you to build an entire world with nothing more than a property list and Tiled file. Tiled is a free program for designing and laying out game levels. Drag 'n drop any sized image into a Tiled file, name it, position it and scurry back to Xcode to define it's properties and publish. That is all it takes.
The kit is intended for side scrolling, or platform games as well as top-down, overhead style games.  And one game can house many different styles! Include completely separate mini-games within a single app. You can even charge for access to certain parts of the game. Finally the kit now supports handheld game controllers, like OUYA and iCade control sets.
Course Highlight: Adobe Illustrator Bundle
We've combined Brian Zaikowski's incredible Exploring Illustrator course with his How to Draw Comics Strips course AND 500 piece royalty-free vector art collection into one amazing bundle. Buyer's will get Lifetime access to all 36 hours of tutorial videos (most are short in-depth Tool tip videos) to stream online or download. Running out of hard drive space? No worries, you can watch every tutorial here on the site.

Free Lava Station Platform Art
New CartoonSmart Blog: SpriteKitLessons.com
To coincide with all our new (and upcoming) Swift and Sprite Kit tutorials, we've launched this site to provide students with the kind of info we would want for reference early on. So far the site already has nearly 4 hours of free video tutorials, countless articles, snippets of quality code, and much more!
Visit our newest training blog now!
Course Highlight: Macho Men and Overweight Characters
In this nine hour course Paris illustrates four characters (two heroes and two villains) to demonstrate the techniques he uses to create the initial design, then to convey motion and expression.
Paris illustrates using Sketchbook Pro, but you can follow along with any illustration program of your choice. Whether you prefer pixel or vector based programs (or simply pencil on paper), the concepts in this course transcend medium. Bottom-line this tutorial series is about creating incredible characters.
Find Out More